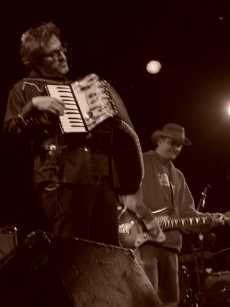 I joined Cracker in March, 1996, playing keyboards, accordion, percussion, and adding some backing vocals.

Until the "Golden Age" album was recorded, Cracker was mainly a guitar based band. I see my position as a texture player adding whatever color the songs require, whether it be keyboards, accordion, or percussion. On certain songs my contribution to the overall sound is subtle, other times it is a signature riff or major part.

Since Cracker doesn't use a set list, the live shows are never predictable. Surprises are part of the live Cracker experience. Songs transform from show to show. The one constant is the musicianship. I think the joy of playing together shows. It was a creative pleasure playing on the "Gentleman's Blues" album as well as the early 2002 release, "Forever." Each Cracker album has been different from the previous one, while maintaining Cracker's high standards of songwriting, performance, and production.

People not familiar with Cracker ask what Cracker's music sounds like. Its a tough question, because Cracker can't be pigeonholed, like many bands, into one style. One of my favorite descriptions of Cracker was "a Southern-rock Mott The Hoople," but that doesn't really give the full picture. The diversity keeps the Cracker experience new, interesting, and exciting for both band and fans. Stylistically, Cracker songs have a wide range of musical influences mixed with wit and humor that are distilled and blended into Cracker music.