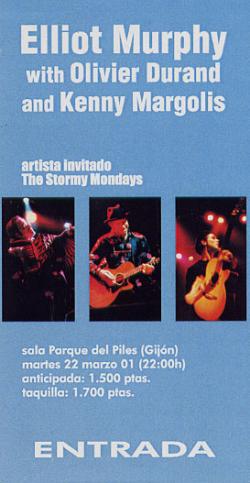 In 1999 I recorded an album called "Rainy Season" with Elliott Murphy, which was a thrill for me, because way back in 1973, Elliott's album, "Aquashow" was one of my most played records.

So far "Rainy Season" has been released in Germany, Spain, and Italy. I've had the pleasure of touring with this group in Spain (twice) and Italy in a full band and trio format along with my old friend, Olivier Durand,whom I've worked with on and off for the last 10 years with French singer,Little Bob. Bass player, Ernie Brooks has worked with Elliott since the mid-Seventies, as well as being an original member of the legendary Modern Lovers .

Drummer Florent Barbier did a fine job of mixing the "Rainy Season" album. Jonathan Kane also played drums and hired me to play on an interesting, exciting album he produced by French avant garde guitarist, Jean-Francois Pauvros. I co-wrote two songs with Elliott for "Rainy Season" ("Django 306 appears on the German and Italian releases. "Immigration Across The Nation" is on the Spanish release.)

A live double cd, "Last Of The Rock Stars & You And Me," which documents the Spanish tours has recently been released in Spain on the Dusty Roses label. A new studio album, "Soul Surfing," which we recorded in August,2001 will be released in Europe Jan. 28, 2002.